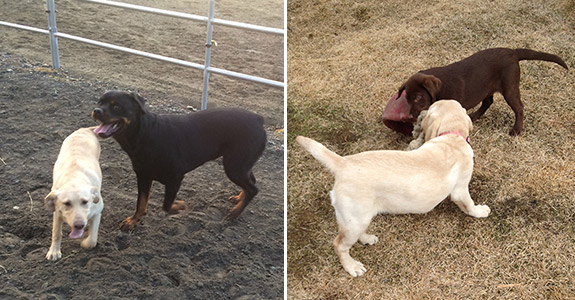 Cooper's Wounded Bear Farm And Kennels has been in business since 1984, and has been family owned and operated since the beginning. Our goal is to provide a safe, clean and fun environment for your pet to stay in when you are away. All pets get one-on-one attention and lots of TLC! We do this job because we love animals.
Cooper's Wounded Bear Farm and Kennels started out as a small company in Kasilof, AK that took care of large outdoor animals only. That phase only lasted for a few years, as our reputation for providing quality and personalized service increased demand rapidly. We built our indoor facility in 1991, and have been steadily growing since then.
Boarding & More
Unlike other facilities in Kasilof, Kalifornsky, Clam Gulch, or Cahoe, AK, our boarding system is unique in that we have large exercise areas and play yards for the animals. Whether or not your dog gets to play with other dogs is dependent on their personality and the personalities of the other animals that are here at the same time. All the animals are handled and played with regularly throughout their stay. Our staff lets the dogs in and out throughout the day so that they have regular and frequent interaction with people.
Many customers say their dogs are better behaved after a trip to our facilities than they were before. We always use positive reinforcement training methods when working with your pets. If your animal becomes ill or injured while here, they are taken to their vet or treated as necessary. Our owner's background as an R.N. is very helpful in dealing with health care issues.
To learn more about our background, rates and pricing, and dog and cat boarding services at Cooper's Wounded Bear Farm and Kennels, we invite you to get in touch anytime by calling 907-283-3218, or by visiting our Contact Us page.