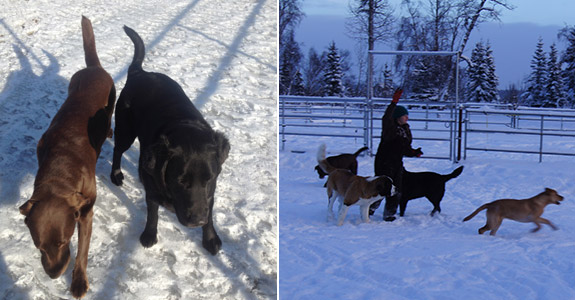 If you are looking for a pet kennel in Kasilof, AK that is friendly, affordable, interactive and experienced, you need look no further than Cooper's Wounded Bear Farm And Kennels. Since our family opened this kennel back in 1984, we have stayed committed to providing the best services and friendly personal touch for both animals and their owners.
When you visit Cooper's Wounded Bear Farm And Kennels, you will notice from the start that we are a bit different from other kennels in Kasilof, AK, and we take pride in that. Here is a closer look at our offered services:
Animal boarding: If you want to give your animal a boarding experience that feels more like a fun vacation than a gloomy week away from the family, then bring them to Cooper's Wounded Bear Farm And Kennels. Our facility has plenty of open space for dogs to roam, and our staff of passionate animal lovers is happy to give your pets the attention they are used to receiving at home. We board dogs, cats, gerbils and more.
Dog training: In addition to offering general animal boarding services, we also offer top-notch dog training services. When dogs stay with us at our kennels, we provide them with some basic training, such as how to sit and stay. We also offer more advanced training services and individual house visits for those dogs that need more help and attention. Our training staff is patient, methodical and committed to improving your dog's behavior.
Full Service Kennel
As a full service kennel in Kasilof, AK, Cooper's Wounded Bear Farm And Kennels is proud to offer the services above, as well as a welcoming environment and affordable prices. For more information, give Cooper's Wounded Bear Farm And Kennels a call anytime at 907-283-3218, or visit our Contact Us page.